2017 In Review
01 January 2018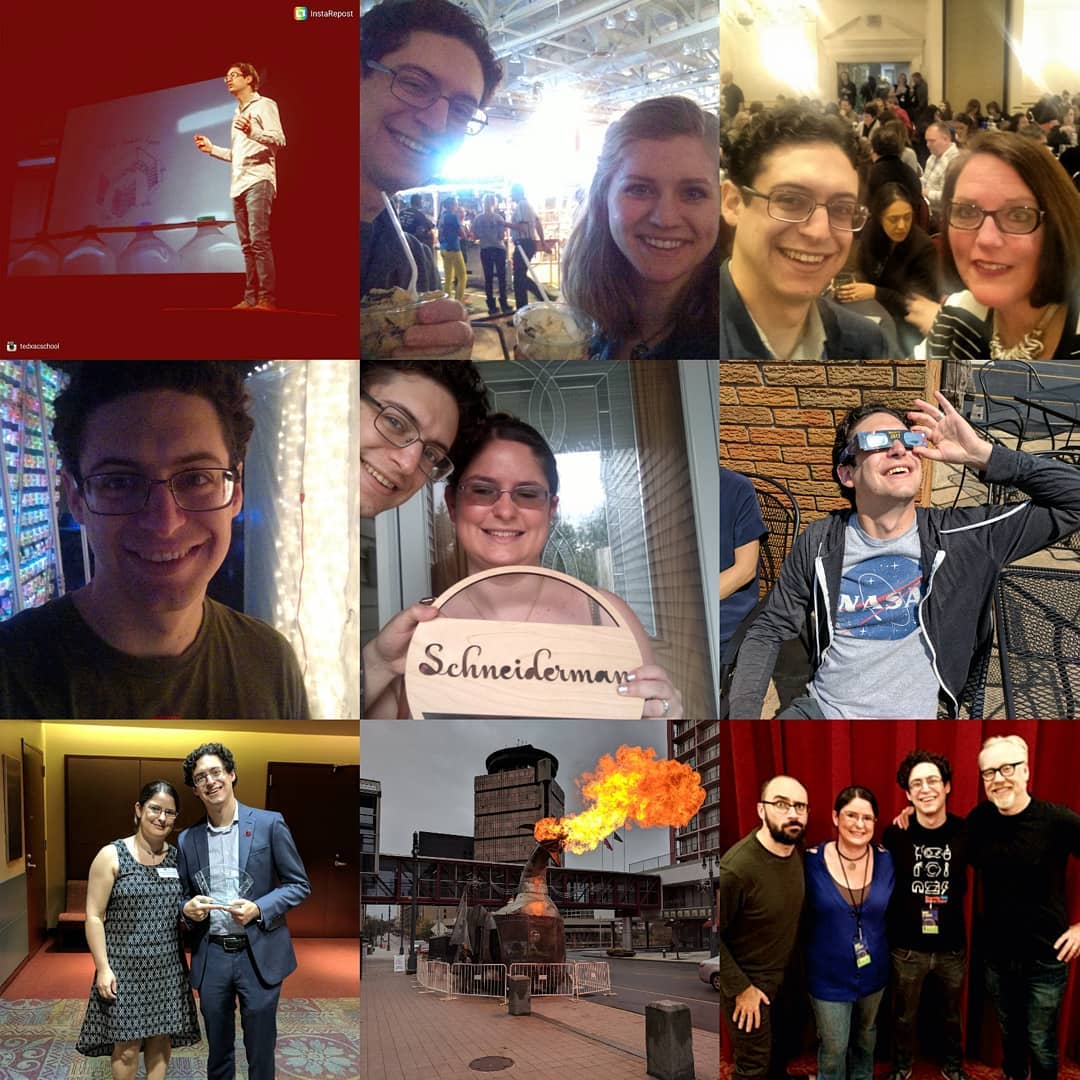 The breakdown of the year that was full of leaps into the unknown: 2016.
January:
Attended 2nd Maker Faire Producers' Summit in Miami
Visited Moonlighter Makerspace in Miami
Announced the 1st NYS Maker Summit
February:
Gave TEDx Talk on the Maker Movement at TEDxAllendaleColumbia School
Taught Wearables and Led Brainstorm Session at Rush Henrietta High School
Judged BrickHack and WiCHacks at RIT
Joined the inaugural NYS Fair S.T.E.A.M. area team
Curated NYS Maker Summit Speakers & Marketed event

Continuous chats and phone calls with makers of all varieties from across NYS
March:
Volunteered at FIRST Robotics Finger Lakes Regional (1st year as Co-Volunteer Coordinator, 10th year volunteering!)
Ran NYS Maker Summit

350 attendees in Albany, NY
50+ speakers and panelists
Makers, Educators, Manufactures, Politicians, Makerspaces from all of NYS
Reception night before at Tech Valley Center of Gravity
Announced S.T.E.A.M area for NYS Fair
Well received!
April:
Brought chandelier to Fast Forward Film Festival - 1st time as artist there
Celebrated 1st year working at MAGIC at RIT
Started NYS Maker Network Newsletter
Marched at the Rochester March for Science and Science Expo
Led NASA Space Apps Hackathon at RIT
May:
Attended RedHat Summit in Boston
Visited Artisan Asylum, one of the largest makerspaces in the US
Participated as an exhibitor at Image RIT as staff for the 2nd time
Tabled FOSS@MAGIC at OS Con in Austin
Attended/Semi-Volunteered at Maker Faire Austin
Spoke at STEM Exploration Days for second time
Attended Buffalo Mini Maker Faire
Celebrated third anniversary with Becca
June:
Held Rochester Makerspace Roundtable for National Week of Making with local Makerspaces, VIPs, government officials and a few makers
Attended Thomas & Rebecca Wedding in Schenectady
July:
Bought a House in Penfield!

Spent 1 week painting and prepping house before moving in

Celebrated birthday at the house for the first time
Exhibited at 1st FLX Maker Fest - duct tape flowers
Cut a couch in half as it we couldn't get the couch out the door
Attended NRS 50th Anniversary Celebration
Becca and I attended our second Regional Burning Man (PortalBurn) - first time as artist

Ran the Tent of Colors - a tent covered in yarn that people could contribute more yarn and patterns to.

Nominated for Digital Rochester GREAT Awards as Emerging Tech Leader
August:
Gave talk about Makerspaces and the Maker Movement in in Old Forge within the Adirondacks
House warming party
Gave Open Source talk and tour of the Construct@RIT to RIT Women in Computing
Experienced solar eclipse with Andrew Coy, former Senior Advisor of Making for the Obama Administration, while he was in Rochester
Exhibited Big Face Boxes for the first time at the NYS Fair in Syracuse over Labor Day weekend

Massive crowds
Part of the S.T.E.A.M. area (co-chaired the area)
Promoted all Maker Faires in NYS
September:
Started conversations with Strong National Museum of Play about possible Maker Workshops
Digital Rochester GREAT Award Finalist Reception
Ran the MAGIC Center's First Annual ArTech Cre8-a-th0n

10 categories, all with some level of humor mixed in
Partnered with 8 internal colleges, departments, and campus organizations
Custom built all 10 awards
Attended by ~20 students

Won the Digital Rochester GREAT Awards for Emerging Tech Leader
World Maker Faire in NYC

Gave talk on running outreach for the Rochester Mini Maker Faire at Maker Faire Producers Meetup
Nation of Makers Meetup - helped organize breakfast
October:
Brought Big Face Boxes to:

WXXI event for teachers and a second event for families
RMSC After Dark
2nd Annual Fredonia Mini Maker Faire

Made PlayDough Pianos using Makey Makeys with Kindergarteners & 1st Graders at the 3rd Lima Primary Mini Maker Faire - 2nd time in a row
Judged ROCGirlHacks, Rochester's first all-girl youth hackathon
Gave talk to LeBella on Makerspaces
Haunted Laboratory at House with Family on Halloween
November:
Brought Big Face Boxes to Science Teachers Association of New York State (STANYS) Conference
Ran Election Night Election Hackathon at RIT
Gave Introduction at RMSC Science on the Edge Speaker Series
Barnes & Noble Maker Faire

Big Face Boxes and Duct Tape Flowers

4th Rochester Mini Maker Faire!

Major success!
3.5k - 4k people in attendance
130+ Makers
Heavy Meta, 19ft tall, 30ft long Fire Breathing Dragon in attendance on East Main Street!!!
More partners and news coverage of event
Added power tool racing

Met Adam Savage at Brain Candy Live in Rochester!
Becca and I hosted Thanksgiving for first time (17 of us)
December:
Digital Rochester Round Table Meeting
Started planning out possible large Cardboard project for Rochester (eventually was called off)
MAGIC Breakfast at Liberty Hill (RIT President's House)
Included in City Magazine's The Rochester 10 - annual feature by CITY Newspaper — turns the spotlight on some of the area's hard-working background players