2016 In Review
10 January 2017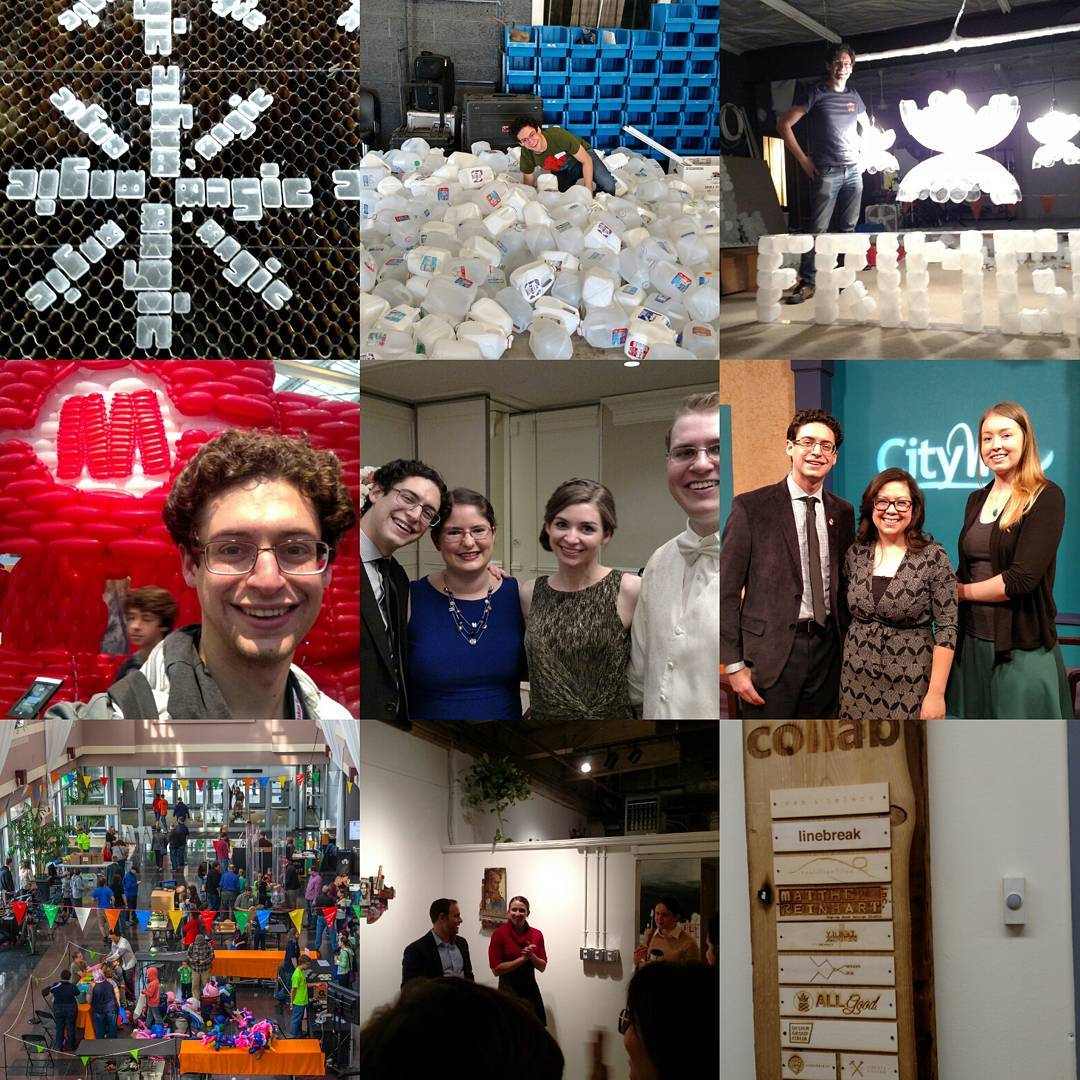 The breakdown of the year that was full of leaps into the unknown: 2016.
January:
Attended 1st Maker Faire Producers' Summit in SF
Visited friends at Facebook
Finally saw the Exploratorium in person
Helped build & run social media for Airigami's Balloon Adventure: Life on the Genesee
February:
Attended Burning Man Equinox at The Yards in Rochester
Started to brainstorm Fringe Festival projects
Explored building that would become Made on State
Ran LED Throwies experience at TEDxAllendaleColumbia School
March:
Attended RMSC STEM Awards
Volunteered at FIRST Robotics Finger Lakes Regional (9th year volunteering!)
Started helping other NYS Mini Maker Faires & Makerspaces
April:
Started new position at RIT (see announcement post)
Visited the Tech Valley Center of Gravity Makerspace in Troy, NY for the first time
Attended RMSC Uncorked & Untapped
Celebrated CSH 40th Anniversary Weekend
Attended Digital Rochester Technology Women of the Year Awards & RocCity Rising for the first time
Led NASA Space Apps Hackathon at RIT
May:
Talked with Middle School Students out in Sodus
Participated as an exhibitor at Image RIT as staff for the first time
Spoke at STEM Exploration Days for first time
Built 3 Masquerade Masks with wearable technologies integrated within them
RMSC After Dark: Makers Masquerade - led Duct Tape Flowers table with Becca and Pat
Celebrated second anniversary with Becca
June:
Was a Guest Bartender for Rochester's Girl Develop It Chapter
Helped host NMC conference with MAGIC
Represented New York State's Maker Movement for the Nation of Makers Kickoff Initiative at the White House (my write up on the experience)
Attended the National Maker Faire
1st Wedding of the Year - Metzgers in Long Island
July:
Family Cruise in the Pacific Northwest

Jumped off a several story platform when experiencing a zwing (a zipline swing) - Becca did the same

Interview with Democrat & Chronicle
Fringe Festival Announcement for the Green Room - collecting of jugs started
2nd Wedding of the Year - Kennedys in Minnesota
August:
Becca & I attended our first Regional Burning Man (PortalBurn)
Prototype wall for Green Room built
Collected hundreds and hundred of 1 gallon jugs from community
Attended 1st Annual Troy Mini Maker Faire
September:
Interview with Rochester Magazine
Fringe Festival Green Room

1,150 1-gallon jugs donated by 75-100 individuals, organizations, events, non-profits
Built chandelier in one weekend with Larry Moss, Kelly Cheatle, & Joel Byam
Green Room walls built in one weekend

12 walls in total
20 builders (including 4 members of my family!)
30 Hot Glue Guns
12 walls in total35 Pounds of Hot Glue

Ceremonial 1 gallon jug of champaign
Up for 12 days

Led Software Freedom Day Hackathon at RIT
October:
Made a bigger trip to the World Maker Faire in NYC

Visited Etsy & NYC Resistor
Held NYS Maker Meetup at Collab in NYC
Nation of Makers Meetup at World Maker Faire

Moderator of Geek Talk! Panel at Rochester Tech Startup Expo
Made paper circuits with the Rochester Boys & Girls Club
3rd Wedding of the Year - Emily & Aaron Schultz in Seattle
Fredonia Mini Maker Faire
Made PlayDough Pianos using Makey Makeys with Kindergarteners & 1st Graders at Lima Primary Mini Maker Faire
November:
Barnes & Noble Maker Faire

Led hands on activities at 3 different stores over 2 days

Ran Election Night Election Hackathon at RIT
Nation of Makers Non-Profit Announced
Tabled at the Rochester Entrepreneur Expo
3rd Rochester Mini Maker Faire!

Big success!
2,200 people in attendance
130+ Makers
Added Flame Makers section this year!
December:
Escaped to Niagara on the Lake with Becca for a weekend
Gave Keynote at Digies Conference at Genesee Community College
Started to figure out plans for a New York State Maker Summit